Beyond Free
Choosing our milestone well, the 'Milestone Package' (post-intro orientation, 6 deeper conversations, and a quality control/wrapup call) would be all it takes to bust through your circumstantial hiccup. BUYAH!
Maybe there's more, but let's just accomplish one milestone at a time. How about the biggest chunk you want out of the way?
Typical milestones:
getting off the fence as to whether you 'dodged a bullet,' or want that girlfriend back
swimming safely to shore instead of drowning in grief/regret/resentment
choosing 'secret admirer' as an identity, or a low-risk, respectful way to reach out
losing a behavior you feel guilty (pleasure) about, without losing self-respect
getting your foot out of your mouth/the lead out of your shoes so you can dance (for real or metaphorically – I've helped both.)
Together, we can reach a major milestone faster than you would on your own: within 6 weeks.
Why 6 weeks?
Because I see a pattern to how this goes, and 6 weeks is when, like I said, in my experience, you'll "bust through" what was previously a huge, undefined, intimidating barrier and finally pass that hurdle, and really reach that major milestone you might've been grappling with for years.
What's week 6 or 7 like?
Celebration! And a no-charge quality control call to make sure I learn from having worked with you. You're unique from anybody else, and I see anything you volunteer as a data-point that can teach me to tweak my style in future, for everyone's sakes.
Since I'm not psychic, I have to ask: "was there anything you would've liked to have seen different?" (Somehow these end up being testimonial-generating conversations, but I swear I'm overtly asking for feedback I can learn and grow from!)
---
"It was feeling like:
'I don't care! This is hopeless! Forget it!'"

"This has been the
hugest turn-around."
–Roger Byrd
---
"Thanks for helping me through a difficult period when I was laid off. Your approach… impressed not only me, but all the employers I sought to work for.

I now work with the firm of my choice, and I know it is the right fit. Pragmatically speaking I'm making a healthy salary. Plus I'm ecstatic to work with a team of people who share many of my visions and work diligently to make them real.

We did this together, Bree.

Thanks for standing by me all the while and encouraging me through every step."

– Brad K.
---
What then?
You have the option be on your merry way, or set sights on the next milestone. Other milestones can benefit from the same setup, or different ones. For instance…
You'd have the option to do a
"once-and-done" all-day intensive to help horrible feelings/situations stop happening to you, or an
"a-call-a-day-keeps-the-blues-away" kind of week, which has been a turning-point for others,
or some format of slow-drip-love tailored to your situation.
All stuff that's not available to the general public.
---
I work online specifically so that you can sit in the same place where you might normally reach for substitutes to real connection. Instead, you build emotional agility. Get better at living.
---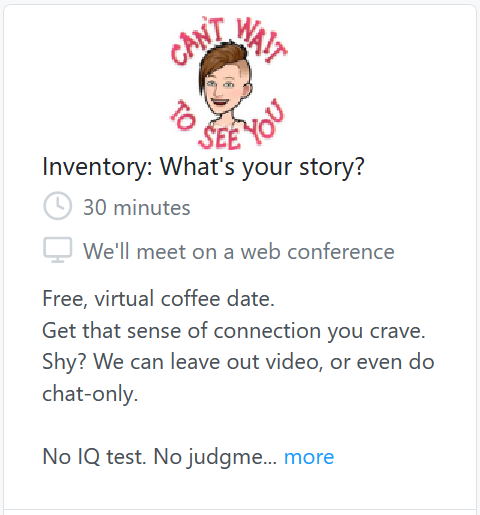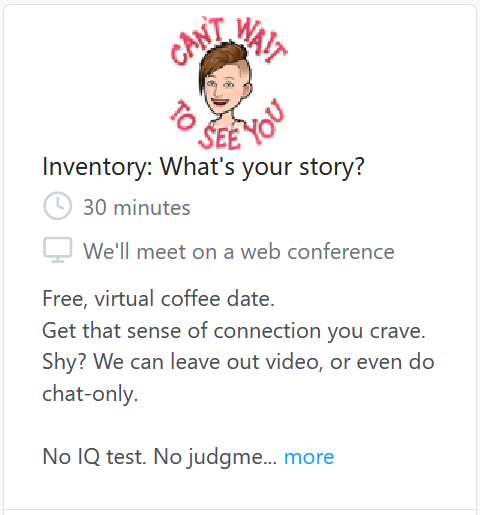 What's the free call like?
We start with a short, lightly structured conversation to make sure you get the space you want.
If, after the built-in break at minute 19-20 you wanna say 'bye,' you can. If you're sincerely curious what your next milestone could be and how we could get really far together in just 6 weeks, that's what the last 10 minutes are reserved for.
Many people don't sleep on it before committing (without regret!) but I'm not into pressure. I email you a summary of what I think we talked about, and an invite to a second, optional, short(!) meeting to verify exactly how we can go about achieving your desired milestone and answer any questions, e.g. about finances, cancellations, etc.
Will there be a 'hard sale' or 'elevator pitch?'
No.
I'm all about you trusting your gut no matter wut! 🙂
Even when you're talking to hesitant inroverts?
Especially then.
This is me being as super-slick as I get:
"Just 20 minutes of your unique personality in the presence of mine can do wonders for your situation, without costing a dime. If you stay on for the full 30, we're dipping a toe in to envision an easier future. No obligation. And if, once you sleep on it for as long as you like, you do accept the milestone package by opting to pay the first $230, nobobdy can obligate you to show up or 'follow through' on anything."
What if I'm clinically depressed? Maybe have Asperger's? or "I'm an addict!"
Do you diagnose/label/report self-harm?
No, no, and no. (BTW, this is an unchangeable, perfectly legal, ethics-based business model.)
My M.O. is: Let me join you in the dark. Grope for words and watch haste and despair dissipate. Finish scary thoughts, knowing my heart and mind are truly listening, in the pit with you, impressed, but not doomed by the gloom. Allow yourself to untangle yourself… without being all by yourself!
This is not therapy.
This is connection.
No status apparatus. No IQ tests. No DSM/other bibles. Just people. Focusing. Together.
---
Regardless of whether we end up meeting more regularly or not, I'd love to meet you.
Confidentiality is a given, either way.
Meeting you will affect me.
I'm all in for a supportive conversation where you get to talk about how it's been for you to be you. To live your life. To be seen. To long to be seen… and belong.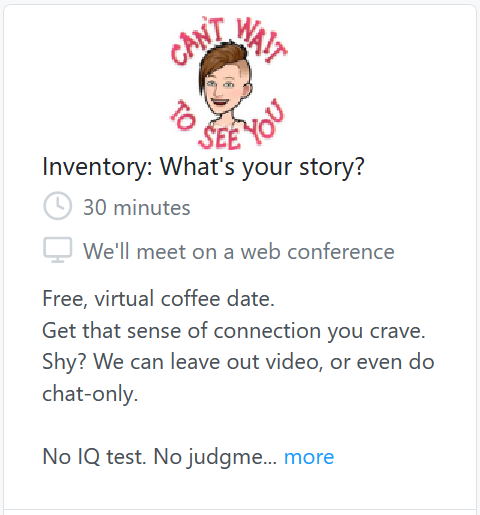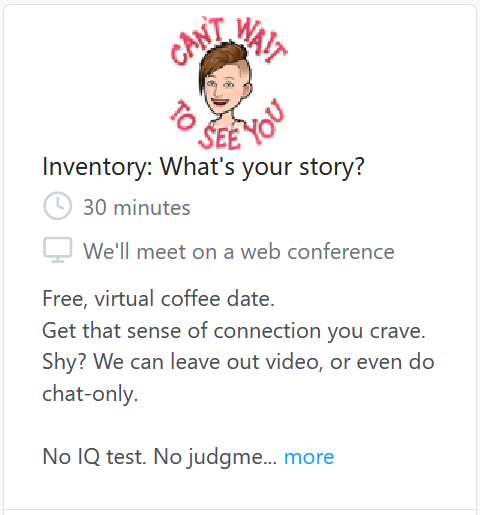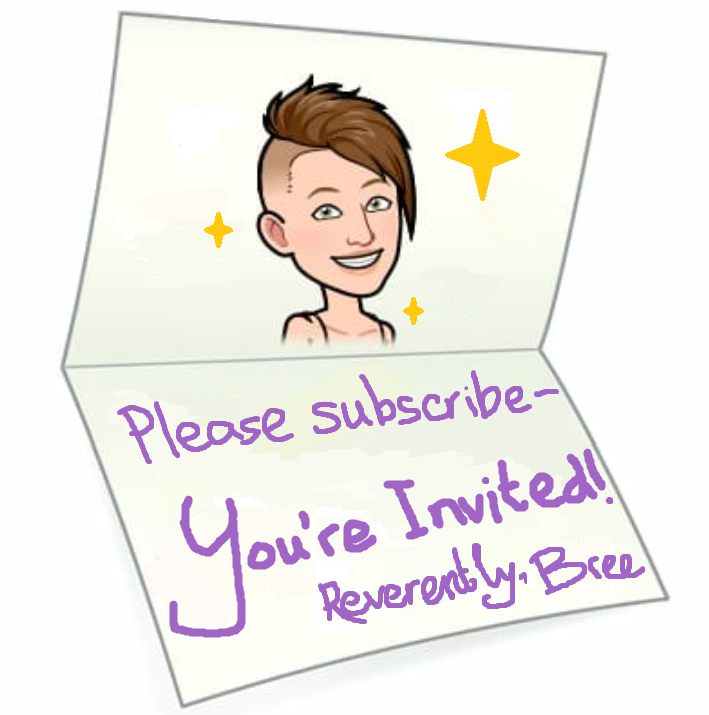 Every conversation improves the relevance and value of what I focus on in my smart guy pet peeve justification eZine.
Nobody knows who I've been talking to, but just in case, I'm vague as to when a post was inspired. I change or leave out all personal details – standard practices that protect your privacy.
The eZine is my way to support the masses of guys like you coming out of the woodwork to say: "I wanna live!" To paraphrase Howard Thurman: what the world needs is more people who have come alive!
---
The story inventory appointment is exactly the same either way; it's up to you whether we discuss what we could do together. If you want that, here's what'd happen next…
---
Without Any Purchase…
You get:
Free 20-minute "what's your story?" conversation.
And optionally
10 minutes extra to distill the previous 20 minutes of supported exploration into a realistic intention.
An email summarizing our call and inviting you to another short convo/email exchange to tweak and tailor what you really want once you've slept on it.
An estimate you can convert into a recurring bill when you're ready, for a total of 3 payments of $230.
Starter Package:
What You Get for just 3x$230
You jump a life-hurdle that baffled you alone through
A personalized "Lay Off Already, I'm Workin' On It!" certificate to fly in the face of anyone who's been riding you.
6 conversational sessions on a schedule you choose. (Weekend options!)
Option to record directly to your own device for review.
Supportive voice memos between sessions.
Additional resources.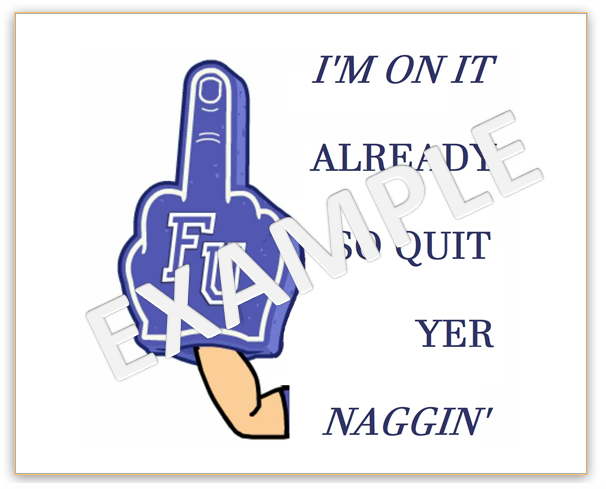 You've arrived! Yay!
Your life is significantly better!
You also get:
A beautiful Certificate of Completion/Commemoration of your choice.
Quality control/evaluation conversation (of my services, not of you!)
Access to faster-acting/intensive services for consecutive hurdle-jumps.
We could keep on trucking together, or you could be gangbusters and on your merry way. I can forecast that pretty accurately by the end of the free intro convo, price and all, so it wouldn't be a surprise, so much as a milestone moment, from where you already had a plan for how you'll reach your next milestone.
---
"Wait! How is this so special?
I could "just talk" with ANYONE!"
True. It doesn't have to be me! If our free exploration conversation brings someone else to mind who has gotten consistent results, I support that! (I even could recommend a few!)
But being true to yourself while connecting from the heart requires practicing with someone skilled and consistent, who happens to be equal to your brilliance, and delights in your every breath. Besides liking you, they have to be
consistent: easy to schedule and not focused on herself,
accountable: won't stand you up, makes and keeps agreements that are thoughtful of you,
responsible: she has done her own work and is not on any kind of power trip or mission to manipulate you into what she needs/wants you to be.
We both know what leads to getting really jaded: the judiciousness with which you focus the aperture of hope you might have today, determines your mood tomorrow. Any open-heartedness at all is precious. Please don't squander a little healthy optimism on the over-optimism that costs you, exhausts you, and begets bedridden regret.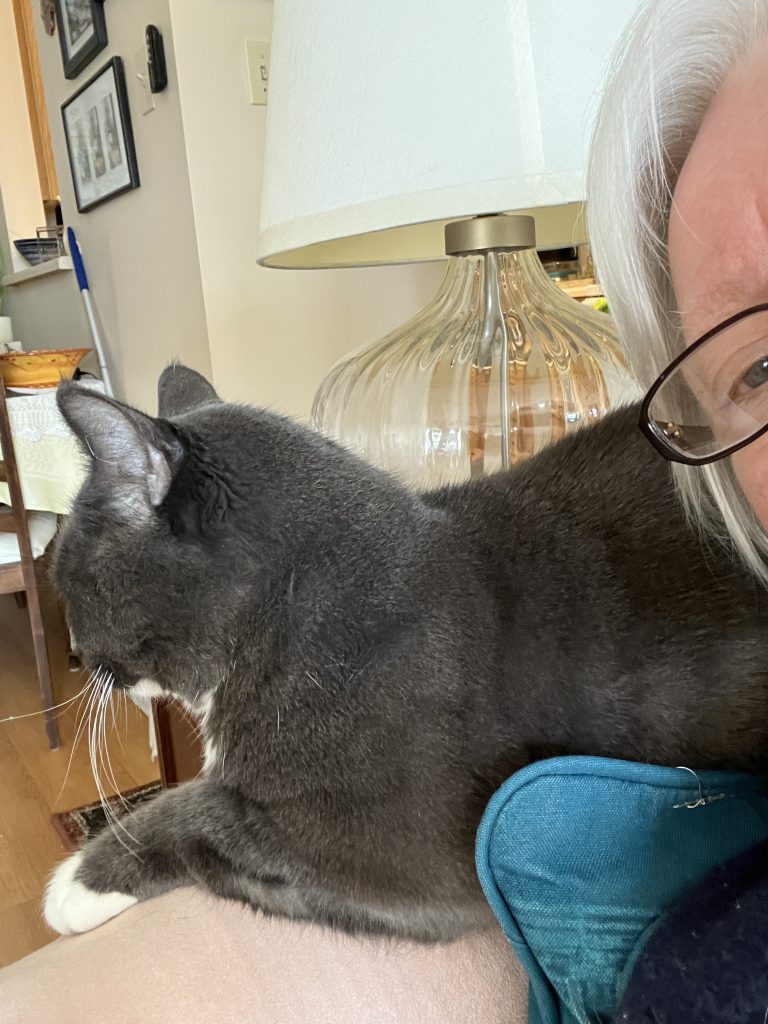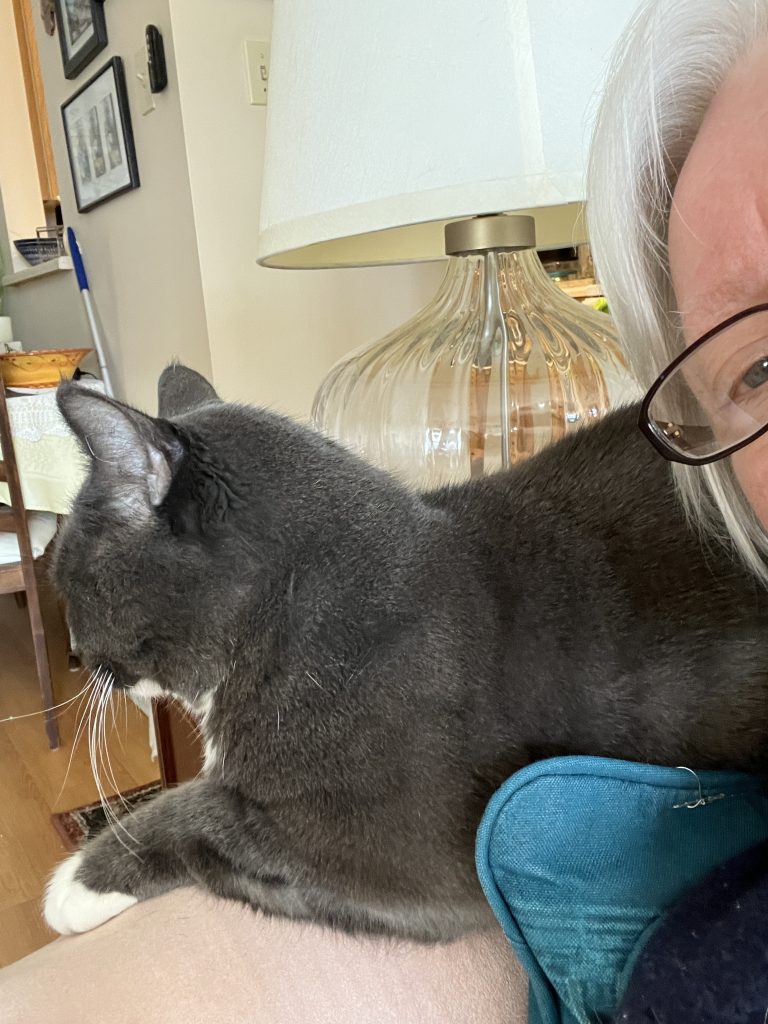 "I'm such an introvert that all the covid lockdowns were no hardship for me. People usually exhaust me. But it's different with you.

With most people, I'm ready for a nap after about 10 minutes of conversation. But an hour with you goes by so fast I don't even notice time passing.

You're funny, smart and wise, and so easy to talk to that I'm energized and not exhausted, even when we talk about my least favourite topic: me!"

T. Nemeth, introvert-land
---
"I'm a big-bandwidth person, and so I'm often afraid of overwhelming people.
What I appreciate about you, Bree, is that you are "big enough."
I feel like I can be met by you.
You can meet me.
I can be as big, or as much, of "me" as I NEED to be, and you can meet me.
I don't have to be nervous about "OMG, I have to say only 10% of who I am" for fear of overwhelming you."

K. Wohl, Portland, OR

---
Make it significantly easier to enjoy yourself,
alone and with worthwhile folx,
today.
If you're curious to talk to me, you don't have to be 100% sure whether this $690 starter package is gonna be a fit for your situation. Type your questions here!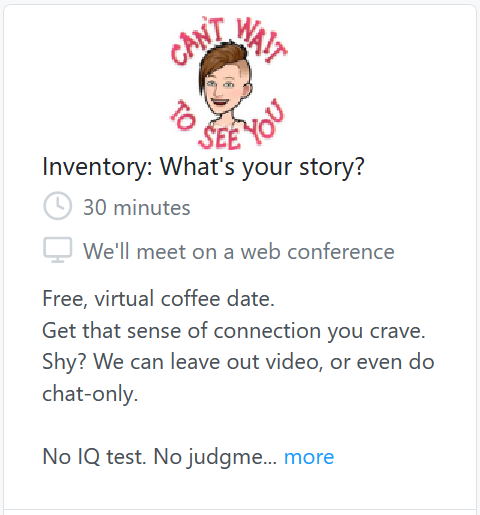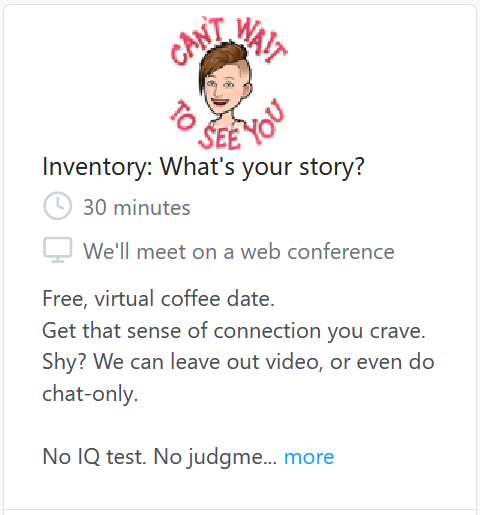 Because "being yourself" is easier said than done.