You have your own wisdom. It just takes sorting out.
Sometimes 6 sessions is all it takes to bust through a circumstantial hiccup. Usually there's more. But either way, based on your goals, and informed by our combined experience of what's possible, we can commit to a clear, doable goal. Together.
Let's reach a major milestone faster than you would on your own, within 6 weeks.
Why 6 weeks?
Because there's a pattern to how this goes, and 6 weeks is when people, like I said, bust through what previously felt like a barrier and reach a major milestone, in my experience.
What happens after 6 weeks?
After we celebrate reaching a major milestone on time and within budget, we recall your stated goals and can set sights on the next milestone.
Six-week testimonial:
"It was feeling like:
'I don't care! This is hopeless! Forget it!'"

"This has been the
hugest turn-around."
–Roger Byrd after 6 sessions.
---
I work online specifically so that you can sit in the same place where these things normally go wrong, and have a completely different experience. If you want to go call me from a nice office somewhere, that's up to you. 🙂
---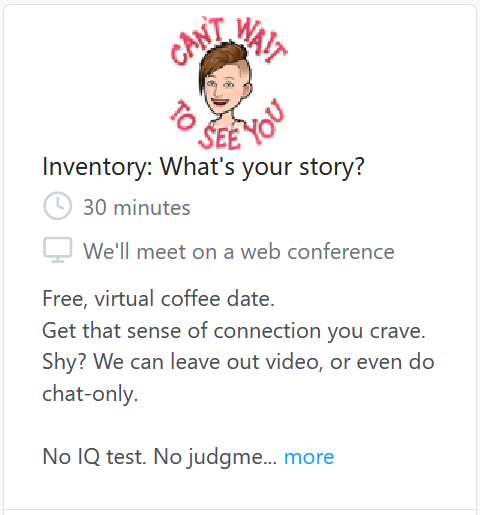 Where would we begin?
How about a short, lightly structured conversation to make sure you get the space you wanted?
If, after the built-in break, you're sincerely curious what your next milestone could be and how we could get really far together in just 6 weeks, that's what the last 10 minutes are reserved for.
Many people don't sleep on it before committing (without regret!) but I'm not into pressure. Either way, the first next thing would be another short meeting to outline how exactly we'd go about achieving your desired milestone.
Don't worry. There won't be any 'hard sale' or 'elevator pitch.'
I'm all about you trusting your gut no matter wut! 🙂
Just 20 minutes of your unique personality in the presence of mine can do wonders for your situation, without costing a dime. Let's let your complex, brilliant mind finish your thoughts, so you can untangle yourself.
---
Regardless of whether we end up meeting more regularly or not, I'd love to meet you.
Meeting you will deeply affect me. And it'll improve the relevance, specificity, and value of what I give away in my smart guy pet peeve justification eZine, which is my other free way to help guys like you come alive. And to paraphrase Howard Thurman: what the world needs is more people who have come alive!
The 'potential client' appointment is exactly the same as the 'research' appointment.
Confidentiality is a given.
It's just a supportive conversation where you get to talk about how things have been in your unique situation.
---
Starter Package
Before we get started, you get:
Free 20-minute "what's your story?" conversation.
Option to tack on 10 more minutes if you wanna talk about how and when your future could be different.
If you like, you also get:
An email summarizing our call.
A copy of the potential agreement, including info on rates and services available post-package.
Obligation-free PayPal estimate.
The option to pay in smaller installments at no extra cost.
Another short convo/email exchange to check we're on the same page.
We can begin.
You get:
A personalized "Lay Off Already, I'm Workin' On It!" certificate to fly in the face of anyone who's been riding you.
Make your own schedule.

Current openings on Fri/Saturdays!

Option to record sessions directly to your own device for review.
Personalized audio snippets for your convenience.
Dissolving an unwanted pattern in your life.
We reach your milestone! Yay!
Besides your life being significantly better, you get:
Completion certificate/commemoration.
Access to services tailored to suit you, personally.
Evaluation conversation (of my services, not of you!)
---
"Be yourself" is so much easier said than done!
You can make it significantly easier to enjoy yourself, alone and with others, today.
Using your smarts to connect from the heart might require conversing with someone someone brilliant, consistent, and skilled, who delights in you sharing your understandings. The first very small, very determined step toward delighted understanding from someone brilliant, consistent, and skilled, involves locating one who's consistently available, won't stand you up, and has done her own work.
It doesn't have to be me!
If this package is not for you, and you have someone else in mind, power to you both!! I sincerely hope you and many others will still take advantage of my free Smart-guy Pet-peeve Justification eZine. I put one out every couple weeks for an unlimited audience, fully accepting that minimal expense. After all, I can only see so many people one-on-one in my lifetime, but the world needs smart guys like you to come alive ASAP! Click here for your free eBook and optional eZine. The world is sorely missing you!
If you're curious to talk to me, you don't have to be 100% sure whether this $690 starter package is gonna be a fit for your situation. Type your questions (or just book your free convo already) by clicking here!
---
You don't have to be anything but yourself
to make mutual connections with worthwhile people.